Epoxy Removal
I'd like to start this case study with "I'm sorry." You decided you wanted an epoxy garage floor that was dressed up and smooth. Things started out well, but have gone horribly wrong. There are a lot of epoxy products, applicators and even epoxy do-it-yourself kits available, the problem is they all have the same failure causing issues that never seem to get mentioned. Here is the truth about epoxy.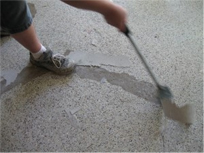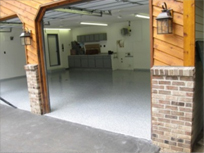 Epoxies rely on a "glue-like" bond to remain attached to your concrete. Unlike polyaspartic / polyurea which "wets" into the concrete, and starts the bonding process below what your eye can see.
Epoxies react negatively to the alkalinity (which always exists to some degree in concrete) which breaks the "glue-like" bond. Polyaspartic, if blended properly, has no reaction to elevated alkalinity.
Moisture, which is also commonly found in concrete, will not allow epoxies to form the "glue-like" bond. Polyaspartic, again if blended properly, has no adverse reaction to moisture.
Guardian Coating Solutionshas spent years making things right that have gone wrong for our customers. With our training, techniques, equipment and experience we can remove concrete stamping, concrete paint and garage floor epoxy and install a polyaspartic/polyurea floor that's durable, attractive and smooth; a floor you'll be able to enjoy for years and years to come.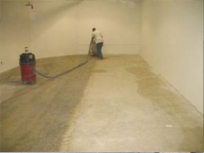 Chances are if you have an epoxy floor, you're seeing delamination (blisters or bubbles), hot tire marks, yellowing or maybe even white scratch marks. At Guardian Coating Solutions, we have a solution. Please us at 206-706-8800 to discuss your jobs special needs we are very confidant that we will exceed your expectations.