How to Repair Cracks, Spalling, Pop-Outs

If you spend as much time with concrete guys as I have, you may hear them say, "there's three things about concrete that are guaranteed, it won't burn in a fire, no one wants to steal it and it's going to crack". Lets talk about cracks. We've all seen cracked concrete; whether it's a concrete garage floor or near the garage door, a sidewalk or on a freeway. Some cracks are right where they are designed to be, along tooling joints like the ones you see in a sidewalk separating the sections or the saw cuts more commonly seen in a concrete garage floor. These separations are intentionally made to be weak so it helps the concrete crack in a controlled area and direction. It's the random cracks that are most noticeable and people are most troubled by because they just don't belong in the places they're normally found.
At Guardian Coating Solutions we have developed and use a concrete preparation system we call the "Perfect Prep System." We use it on every floor we work on, whether it's a Garage Floor, Commercial/Industrial floor or a Retail Storefront. One of the key components of the "Perfect Prep System" is the repair of all Cracks, Pop-outs and Spalled areas (the areas where it looks like the top came off) of the floor. These repairs, along with our grinding process, create a smooth and level surface before coatings are applied.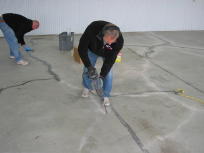 For now, we're going to focus on cracks, we have other case studies talking about pop outs and spalling that you can find here on our website. Now I don't mean to talk poorly about any of our competitors or to be mean to the garage guys of the world, but I want to state this bluntly; smearing peanut butter, caulk or whatever other type of over the top goo you choose will NOT repair your crack. If you could cut out the piece of concrete with the crack you'd see that the surface crack you see actually flows down vertically deep into the concrete and quite possible through to the dirt below. To properly repair that crack you need a material that will travel vertically into the crack and be absorbed into the sides prior to curing, sealing the concrete to prevent moisture transmission and filling the crack to create a smooth and level surface. Guardian Coating Solutions has a polyurea repair material that does just that; we use it to do vertical fill crack repairs for all cracks on every job; it's a standard part of the "Perfect Prep System."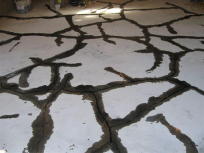 If you'd like to talk with us about crack repair or other concrete issues; whether it's a concrete garage floor, commercial/industrial floor or retail storefront, please feel free to give us a call. We are based in the Greater Seattle, Washington area.